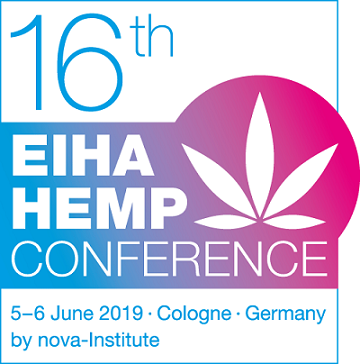 On 5-9 June, European Industrial Hemp Association (EIHA) held the largest conference on industrial hemp of all time and worldwide in Cologne, Germany.
One of the highlights of the event was the issuance of the 'Cologne Declaration'. Signed by nearly 200 participants of the conference held, the Cologne Declaration is the hemp industry's call for reasonable policies on hemp & CBD across the whole EU.
"The signatories urge policymakers to develop a reasonable and harmonised legislation on non-psychotropic cannabinoids such as CBD and hemp extracts as food supplement ingredients as well as pharmaceuticals in Europe and in all member states, to make sure that consumers are protected, to sustain the industry's current double-digit growth rate, to attract new investors, create jobs and to boost development of safe products." – reads the Declaration.
Apart from the call for better and unified legislation on non-psychoactive cannabinoids, the signatories have also urged the policymakers to harmonise the legislation on THC guidance values for hemp food with the rest of the world and to end the ban of the cultivation of industrial hemp in the UN Single Convention on Narcotic Drugs.
You can read the Cologne Declaration here:
http://eiha.org/media/2017/07/17-06-06%20EIHA%20Cologne%20Declaration_final.pdf
EIHA's press release following the Cologne Conference can be found here:
http://news.bio-based.eu/the-largest-conference-on-industrial-hemp-of-all-time-and-worldwide-7-and-8-june-in-cologne-330-participants-from-44-countries/
0
https://hempforhumanity.eu/wp-content/uploads/2019/06/EIHA-Conference-Logo-quadrat_500px.png
364
360
admin
http://hempforhumanity.eu/wp-content/uploads/2019/02/hemp-logo_03.png
admin
2019-06-24 11:41:12
2019-06-25 10:41:15
The Cologne Declaration on Industrial Hemp