Animal lovers know perfectly well that there is no delicacy in the world man would keep from their beloved pet. This rule applies to cannabis products as well. Let's look at whether and how our four-legged extended family members can benefit from the hemp CBD.
How do animals react to cannabinoids?
It would seem that cannabinoids should produce a similar effect in all mammals due to the very mechanism of how they work. Cannabinoids like CBD interact with the body via the endocannabinoid system (ECS) all mammals (and most vertebrates) are equipped with. This is why all mammals are able to experience the effects of hemp cannabinoids.
Moreover, there are studies (including one conducted by a team of Robert Mechoulam who first discovered CBD) suggesting that while the mechanism of cannabinoid action in dogs is roughly the same, dogs' endocannabinoid system is much more sensitive than a human one. This has a few practical consequences.
First off, it is just plain cruel to stuff your pet with THC – the main psychoactive cannabinoid. Considering the potent psychotic effect of tetrahydrocannabinol, a stoned dachshund won't be particularly happy about it.
The increased sensitivity of the animal endocannabinoid system also means that in case of pets, the beneficial effects of the CBD they are likely to last longer and that the recommended dosage per weight will be smaller than one recommended to human.
But why should we even consider giving CBD to our pet in the first place? How can it affect the well-being of our quadruped friend?
CBD effects on domestic animals
The potential effects of CBD on pets are roughly the same as those observed in humans. By acting on body parts fitted with endocannabinoid system's receptors (CB1 and CB2 type), the CBD can act as an anti-inflammatory, analgesic, antipsychotics, calming or appetite stimulating agent. See the picture below to get the idea of just how many areas of your pet's body can benefit from CBD: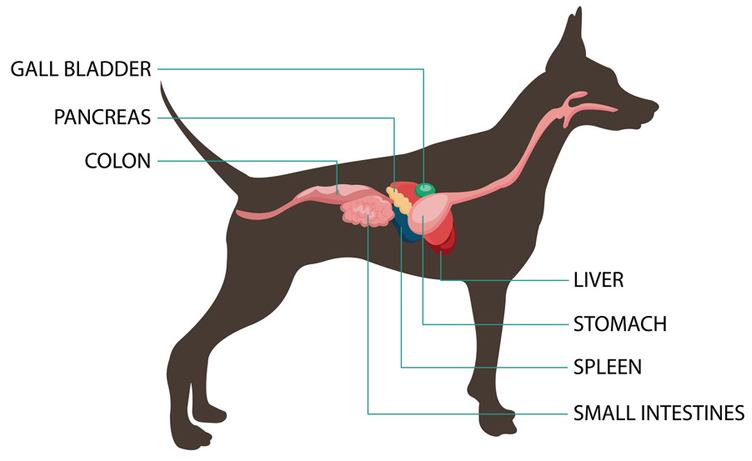 It should be borne in mind, however, that in case of administering cannabidiol to animals, there is much less research and hard evidence of its effect compared to its use with human patients/consumers. This means that, for example, in the United States, the decision whether to recommend a CBD to a pet patient depends entirely on the individual veterinarian.
Following the increased interest in the health and therapeutic properties of hemp CBD, the American Veterinary Medical Association (AVMA) has begun to gather anecdotal reports from dog and cat owners on their experience with hemp products. After filtering out a large dose of sugar-coated sentiments typical for the majority of pet owners, we reach some not-so-surprising conclusion. The vast majority of the owners' reports were positive – 60 to 90 per cent of them would recommend giving cannabidiol to dogs and cats. Most anecdotal reports concern cannabidiol administration in cases of mood swing and appetite degradation, nervous or aggressive behaviour, sleep problems or chronic pain. Due to the overwhelming amount of positive reports, AVMA recommended CBD for further research to possibly include it in a veterinary pharmacopoeia.
Should I give CBD to my dog?
As to whether to recommend administrating CBD to a dog or a cat, it is even more difficult to give a straight answer than it is in case of humans.
Let us remind you that the CBD hemp oils sold in Europe have the legal status of dietary supplements – this means that they are absolutely safe to use and do not have any psychoactive properties (such oils are produced from fibre-grade cannabis plant with a THC content of less than 0.2%) – but they can not, by no means, be considered a medicinal drug. The same applies to pet use.
On the US market, there is a full range of CBD hemp products for the animals available – from canine CBD biscuits to liver-flavoured tablets and products for cats. Most of these are completely natural products.
It is worth remembering that the bioavailability of CBD is significantly increased when it is administrated with fats, so oily capsules or a drop of CBD hemp oil added to fatty food will work better than dry fodder.
Those scant pieces of evidence available seem to confirm the anecdotal accounts of animal owners, yet we are still far from the official recognition of CBD by the veterinarians. In Europe, the market for animal CBD products has only just started to develop, so in practice, animal owners have to resolve to feed their pets CBD products designed for humans.
Remember that the CBD hemp oils will not produce any serious side effects (the mild one reported were nervousness and vomiting which appeared after apparently administrating too high doses) and absolutely no psychoactive effects.
So, if you decide to feed CBD hemp oil to your dog or cat, we strongly recommend starting with the smallest possible amount (remember to adjust the dose for humans to the weight of the animal – and then reduce it twice) and consult your veterinarian.

We believe hemp is a human right and aim to move the conversation forward about hemp.